STATION 2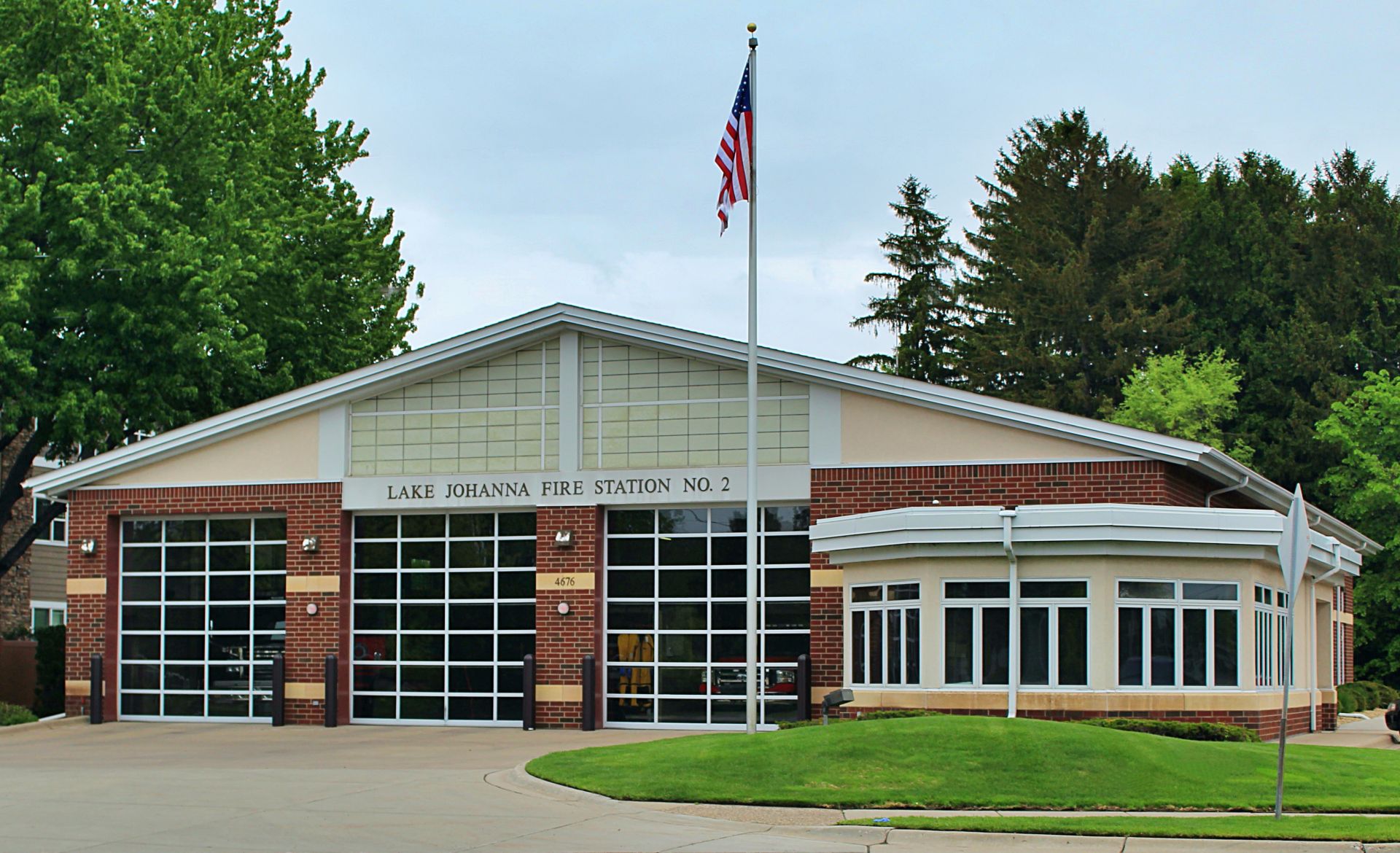 4676 Hodgson Rd
North Oaks, MN
Opened: 1955
Rebuilt: 1996
Remodeled: 2012
STATION 3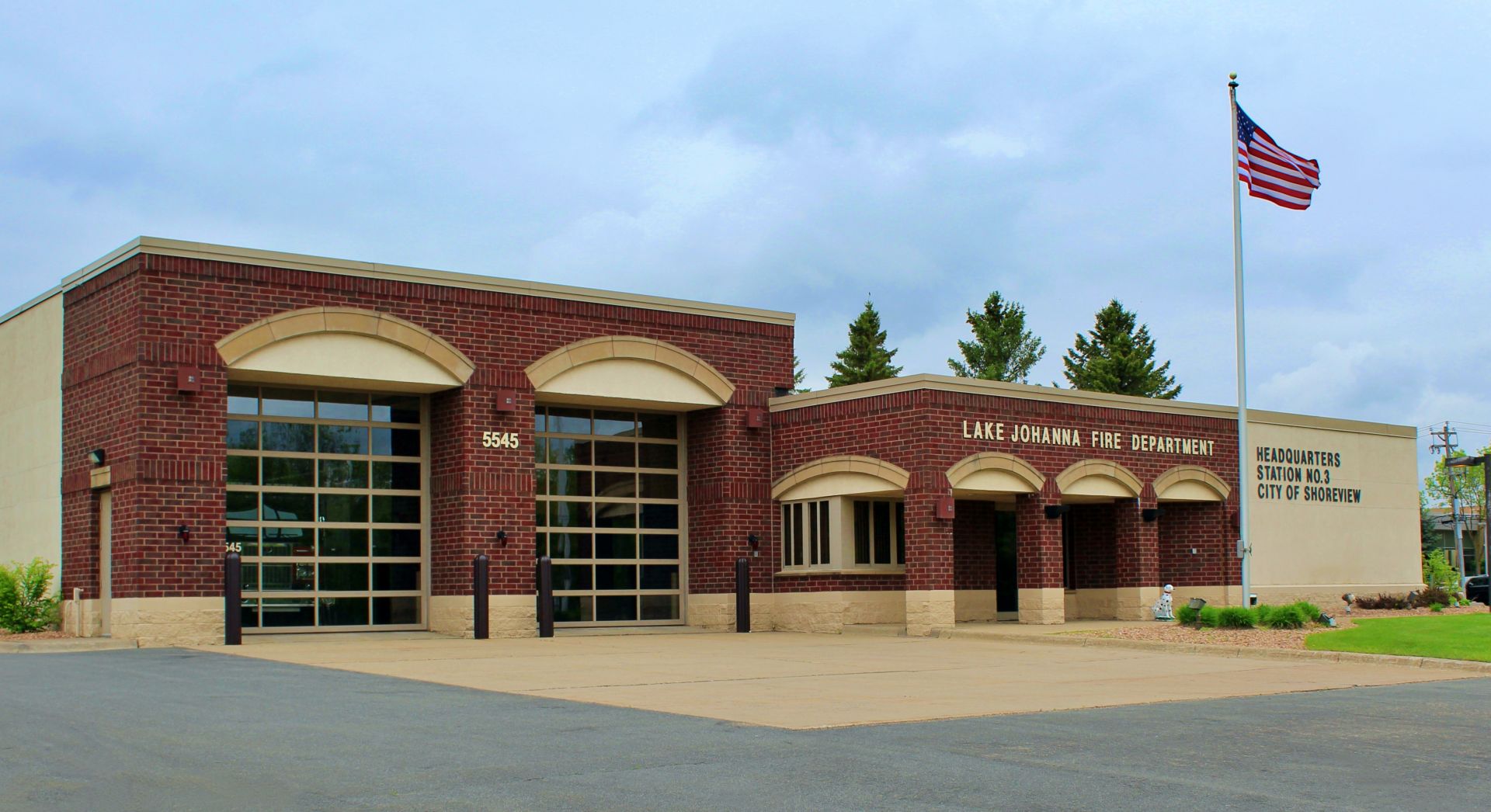 5545 Lexington Ave N
Shoreview, MN
Opened: 1986
Remodeled: 2005
STATION 4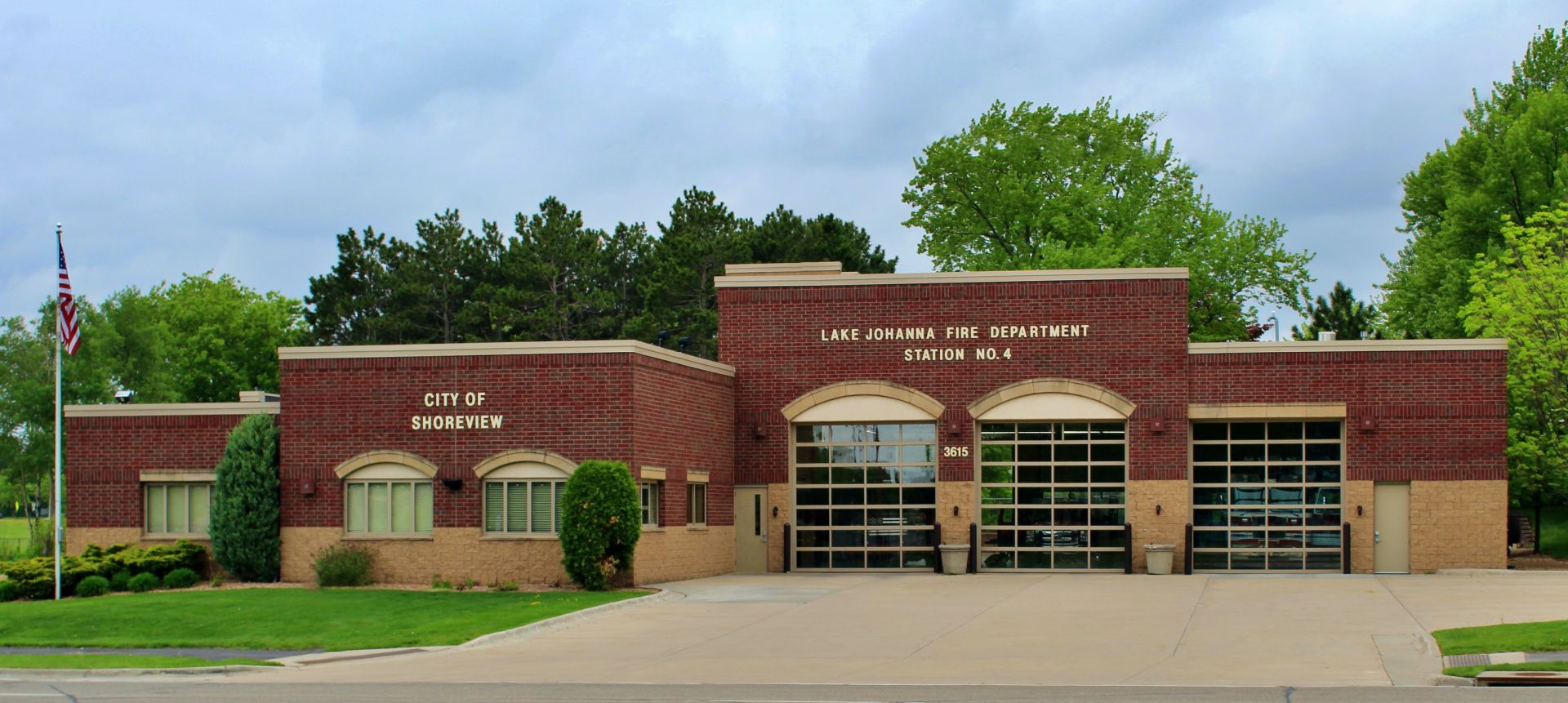 3615 Victoria St
Shoreview, MN
Opened: 1988
Remodeled: 2005, 2012


Future Station Project
Background
The Lake Johanna Fire Department has served Arden Hills, North Oaks and Shoreview and their now approximately 42,000 residents since 1943. The 2019 Annual Report shows the department responded to 3,820 calls in 2019 and is projecting to surpass 6,000 calls by 2026 based on current data trends and pending development projects. The department has evolved from Paid-On-Call (POC) to a combination of career and part-time positions. The approximately 80 employees provide 24/7 coverage through a "duty crew" program which allows firefighters to respond immediately from their respective stations decreasing response times and increasing their effectiveness. As the department continues to evolve, a needs study was commissioned by the Lake Johanna Fire Dept Board of Directors to assist in planning for the future. Please reference our Coverage Area and Station Locations maps.
Needs Study
The needs study, conducted by Buetow 2 Architects, found the fire department did not have adequate space or facilities and noted several shortcomings with Station 4 (3615 Victoria St, Shoreview) including, but not limited to: it was not designed for full-time staffing, the trucks were smaller when the station was designed, no room for expansion, no support spaces or additional storage spaces, and no training or de-contamination spaces. The study recommended the fire department construct a new station with adequate space and facilities to last the department the next 50 years and close Station 4 which would roll responsibility of the site back to the City of Shoreview who initially built and owns the property.
Location
The recommended location was between Lexington Ave. and Snelling Ave. along County Road E. The fire department researched potential locations and based on its size, location, and current development status highlighted the property to the north of the Anderson Center on Pine Tree Dr. as their first choice. Another key factor was the safety of the site for both citizens and responders regarding access as the current stations have significant cross-traffic and Pine Tree Drive would be a drastically less busy street. Mapping software was also used to analyze response times to find an equitable balance to both southern corners of the fire department's response area. Please reference the response time maps for the current and future station locations.
Approval Process
Multiple steps of approvals were needed throughout this process. These included approvals for the needs study, different preliminary design stages with the architect, direction to initiate discussion with Bethel University, etc. Prior to receiving further approval and direction from the Board of Directors regarding the land purchase, the fire department was directed to meet with all three city councils regarding the project. Multiple presentations and interactive meetings were held with each council independently both prior to and during the COVID-19 pandemic. At the conclusion of these presentations there was unanimous consent from all members of all three councils to proceed with the land acquisition.
Land Acquisition
At the direction of the board of directors, the fire department began discussions with Bethel University about potentially selling a piece of their property to the Lake Johanna Fire Department. Bethel was open to selling a piece of their property and hired a real estate consultant to assist them in the negotiations. Following negotiations, a letter of intent (LOI) was reached between the fire department and Bethel, which outlined major points in the deal. Those major points were included in the Purchase Agreement which was brought forward to the Lake Johanna Board of Directors on May 20, 2020 for discussion followed by approval. The board directed the Fire Chief to sign a purchase agreement with Bethel University.
Funding
Funding of a new fire station would be paid for by the cities of Arden Hills, North Oaks and Shoreview. The cities pay their proportional share of the fire department's operating and capital budgets based on a formula which considers each city's calls for service over a three-year period as well as other metrics. The current formula results in the following financial split: Arden Hills – 25%, North Oaks – 14% and Shoreview – 61%. Each city decides how to fund its cost for fire protection, but these funds typically come from a city's general fund.
Current/Future Operations
The Lake Johanna Fire Department currently staffs two stations 24/7. Station 2 at 4676 Hodgson Road, and Station 4 at 3615 Victoria Street. The long-range plan is to add 24/7 staffing to Station 3 at 5545 Lexington Ave. as there is an increase in call volume due to future development. The Administrative Staff are on more typical weekday hours.
Frequently Asked Questions
Lake Johanna Fire has Mutual Aid (manual request) agreements state-wide. We have reciprocal Automatic Aid (automatically triggered based on call type) for structure fires with New Brighton, Roseville, Vadnais Heights and White Bear Lake Fire Departments.
There is also Automatic Aid for any incident within a defined area of 694/35E with Little Canada and Vadnais Heights Fire Departments. Another piece of our response options is reciprocal with Roseville and Vadnais Heights Fire Departments for an initial response in the event the host department is temporarily out of resources for a critical call.
The final piece of cooperative response efforts is known as "Closest Unit Dispatching" where-as a unit from an otherwise unincluded fire department is closer than any other unit for structure fires or water emergencies; that unit is added to the standard response.
Each of these collaborative efforts is designed for the sole purpose of providing the very best service, regardless of jurisdictional boundaries. It should be noted that the typical day-to-day responses are handled solely by Lake Johanna Fire Department and the previously mentioned situations account for approximately 0.5% of the call volume.
The fire department is purchasing property to the north of the Anderson Center, while the Crepeau Nature Preserve is located to the south of the Anderson Center and will not be impacted by this project.
In addition to the Needs Study conducted, the fire department also analyzed response time models from the three current station locations. It was determined that a new station location should be located between Lexington Ave. and Snelling Ave. along County Road E., ideally in a commercial area rather than a residential neighborhood. The property needed to be 3-4 acres in size to accommodate 24/7 staffing and the necessary trucks and equipment. In looking at that corridor, the only property that fit those requirements was the university property. The fire department approached Bethel to see if they would be open to selling some of their property. The identified location at Bethel is also attractive because it allows the trucks to go north to a major, controlled intersection, rather than pulling out directly onto an arterial roadway. Trucks can control the intersection before they get to the intersection. Additionally, the location is south of the railroad tracks, so the trucks don't need to wait for backed up vehicles or trains to pass. Finally, other sites would have required multiple property acquisitions to get to the size needed, as well as demolition costs.
The Lake Johanna Fire Department responds to Fire/EMS calls in the cities of Arden Hills, North Oaks and Shoreview. We protect about 42,000 residents covering 31 square miles. Lake Johanna Fire has Automatic Aid agreements with New Brighton, Roseville, Vadnais Heights and White Bear Lake Fire Departments. The Automatic Aid agreements only pertain to "Structure Fires". For example, a structure fire in Arden Hills would automatically trigger all three Lake Johanna stations. Additionally, Roseville and New Brighton would also respond automatically to the scene. Being a reciprocal agreement, Lake Johanna Fire would automatically be dispatched to structure fires in all or portions of their respective cities in the same fashion.
In 2019 the department responded to a total of 3,820 calls for service. Station 4 responded to about 1,900 of those calls. The calls for service in 2019 show that 80% of the 3,820 calls were between the hours of 6:30am and 10:00pm.
Planning for a new station has been in the works for several years, due to increased demand for services. The fire department responded to 2,875 calls in 2015 and 3,820 calls in 2019, which reflects a 25% increase. The department estimates it will surpass 6,000 calls annually (16-17 calls daily) by 2026 (6% per year plus 500+ from pending development). As calls for service increase and the need for 24/7 staffing increases, the department must plan site locations that best serve the all three cities. The long term plan calls for continued operation of Station 2, located at 4676 Hodgson Road, North Oaks, with continued 24/7 staffing; continued operation of Station 3 - 5545 Lexington Ave., Shoreview, with the addition of 24/7 staffing; and replacing Station 4 at 3615 Victoria Street, Shoreview, with the new proposed location at the Anderson Center off of Pine Tree Drive, which would be better located and staffed 24/7. Shifting the station west reduces the area south of Hwy. 96 that is outside of a 6-minute response time from approx. 1.21 square miles to 0.13 square miles. The new fire station would be designed to meet the fire department's needs for the next 50 years. The proposed new location is needed due to development expansions in all three cities. Projects include and are certainly not limited to: Edison Apartments & Townhomes and Loden II (Shoreview); Marriott Springhill Suites Hotel and Summit Senior Living (Arden Hills); and North Oaks Housing Projects. Regardless of the TCAAP development, there is significant development and projections that indicate an increased level of calls for service in all three cities.
Currently, the fire department is only purchasing the land adjacent to the Anderson Center. Following the acquisition, the fire department will need to consult with its board of directors on when to begin construction on a new station.  A build timeline has not yet been established.
Unless the call for service is in the neighborhood south of Harriet (Benton Way, Hunters Court or Waldon Place) or to the business accessed from Harriet, the apparatus will not respond south to Harriet Ave. A minimal number of calls would require a response south to Harriet. Responding to a call through a controlled intersection is safer for fire crews, as well as residents. Responding to Lexington via Harriet is a much less safe route.